Over 5,000 participants have successfully completed our "Aviation Security" training course!
"Aviation Security" and "Secure Supply Chains" are our daily business. We offer you an insight into our experience and let you benefit  from our expertise.

Schulungscenter Luftsicherheit: Bouché Air & Sea GmbH
Coordination Classes, Chapter-Registration:
Luftsicherheitsbeauftragte/r N.N.
+49 621 / 15 07 0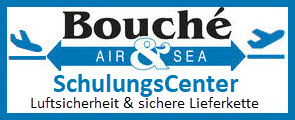 Management Consulting LBA-Audit & Efficiancy-based Solutions
Security Protocols, Simulation LBA-Audit, …
GF Marc Jobelius
+49 621 / 15 07 0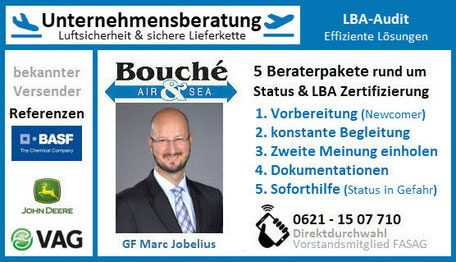 In General: Services SchulungsCenter Luftsicherheit der Bouché Air & Sea GmbH
Bouché Air & Sea GmbH is point of contact for all businesses who either already are known consignors (bV), regulated agents (RegB), approved carriers, regulated suppliers (RegL) or known suppliers (bL) or wish to become one.
Additionally, we train your employees "business to business" either on site in your company or in our AEO  bV training center in Mannheim.
Furthermore, we offer "Training in Aviation Security" for your employees via our Online-Plattform "Schulungen zur Luftsicherheit"!